It's been a busy couple of weeks for the Ants Esports team as their SPFC campaign got underway following a harrowing defeat in the Pre-Season cup final which led to a raft of changes on the roster of players. The team is now becoming slightly more settled in terms of numbers and we have got off to a good start in the league.
The first game of the season saw us face Rangers SFPC away from home and win 3-2 with @vfl_Schnitzel netting a hat-trick. Next up was Kilmarnock who defeated the Ants with a last minute goal 3-4, @cxzzamxl @OifoifVfl and @cglasgow67 got the Ants goals on this occasion.
The following night We faced Celtic SFPC and ran out 5-2 winners, @VFL_Schnitzel with a double along with goals from @Oifoifvfl, @cxzzamxl and @phenmc1690 (Who has since left the club). The club had received a bye in the League Cup and were drawn to play Partick Thistle SFPC the following week.
This week the boys faced Morton SFPC in their first league game of the weekend and ran out 5-4 winners in a close match, that man Gert Schnitzel (@vfl_schnitzel) grabbed another hat-trick with Cozza (@cxzzamxl) grabbing a double, then drew 1-1 with Dundee United SFPC with @CameronRoboSafc putting the Ants 1-0 up before United equalised.
Saturday night saw us take on Hibs SFPC and once again @VFL_Schnitzel netted for us in a 1-0 win that saw us finish the weekend in 3rd place, there was a blow however when Partick Thistle SFPC put us out of the League Cup, a @VFL_Schnitzel double not being enough as the Jags ran out 4-2 winners.
It's an encouraging start for the Pro Clubs side as we build a squad that can hopefully challenge this season and going forward and it's been testament to the hard work our head of Esports @TKremer10 and the team have put in to see us get such a positive start to the season.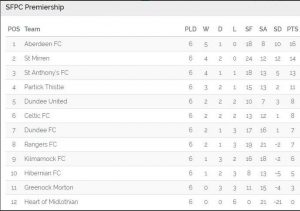 #ItsanEsportsAntsThing